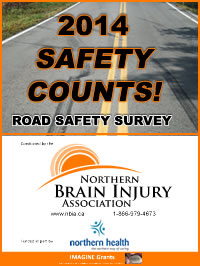 The first Safety Counts project was a traffic survey collaboration between the brain injury associations of northern BC and Road Health. Through that initiative, we observed and recorded the habits of vulnerable road users in northern BC communities.
While the initial survey results were disheartening, they ignited a renewed effort on our part to increase safety awareness and prevent brain injury, and those efforts have continued ever since.
The most recent survey (Autumn 2014) was conducted in five northern communities, and included a combination of paid local community observers, volunteers (most supplied through the United Way of Northern BC's Days of Caring program), and the help and cooperation of the Prince George Brain Injured Group.
Communities and organizations wishing to
participate in future surveys are urged to contact us.
View the results of the NBIA's 2017 Road Safety Survey. (pdf)
View the results of the NBIA's 2016 Road Safety Survey. (pdf)
View the results of the NBIA's 2015 Road Safety Survey. (pdf)
View the results of the NBIA's 2014 Road Safety Survey. (pdf)
View the results of the NBIA's 2013 Road Safety Survey. (pdf)